Community Events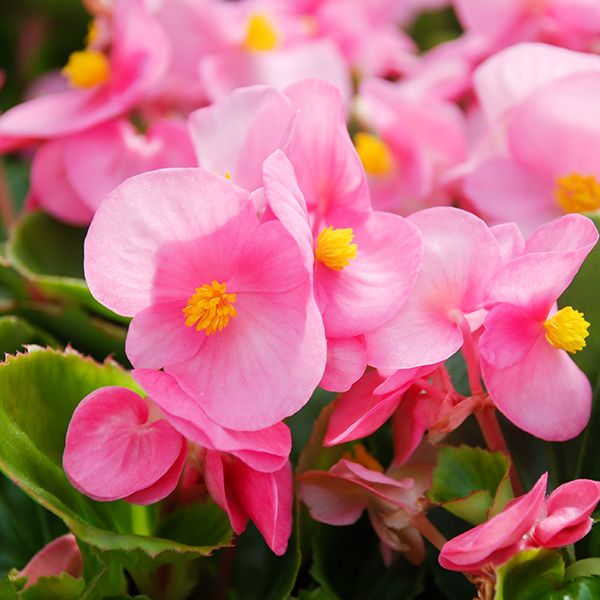 April 1 Summer Begonia Floral Beds Available
Enhance your loved one's site with a beautiful bed of begonias. Our staff will maintain and water the begonias. Order here or contact our office through This email address is being protected from spambots. You need JavaScript enabled to view it. or by calling 313/567-3453. Limited quantity available.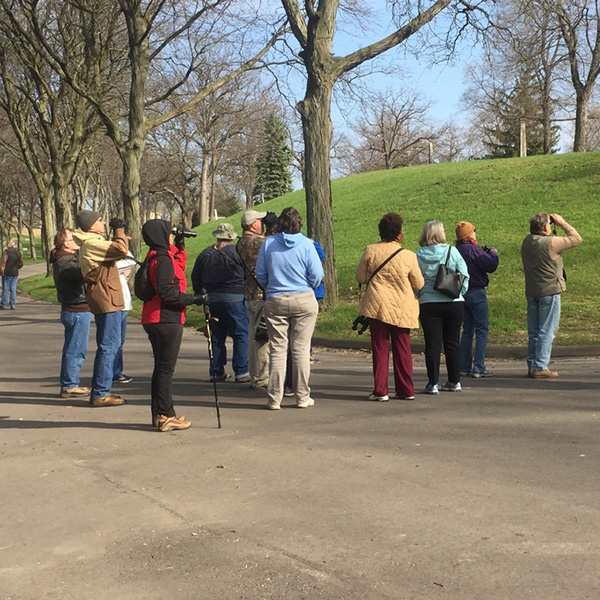 Birding with Detroit Audubon Society
June 18th 9 a.m., July 17th 9 a.m., August 21st 9 a.m.,
September 10th 8 a.m., October 8th 9 a.m., November 12th 9 a.m., December 10th 9 a.m.
Join Detroit Audubon Society for a birding event at Elmwood. We will walk the grounds to identify the species migrating through the cemetery. We will track the different species we see and discuss migration, habitat and the different birds. There will be plenty of opportunities for photographs and open discussion. We will gather in the chapel following the walk for refreshments. Sign up by emailing This email address is being protected from spambots. You need JavaScript enabled to view it.. Free! Park along the pond road and meet at the Gatehouse.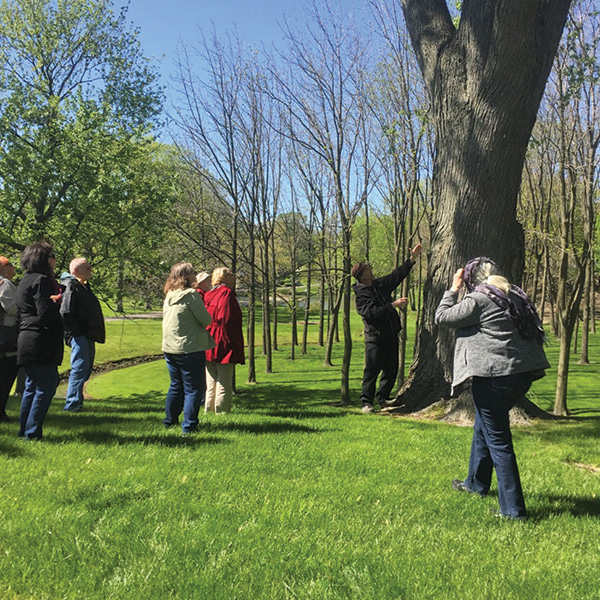 Trees!
Experience Detroit's first certified arboretum through one of Elmwood's events:

Arbor Day Celebration. Join our grounds crew as we celebrate Arbor Day with children from local schools. We will plant a tree and talk about trees' importance to our environment. This event is in partnership with Greening of Detroit.
Tree Identification Class
September 25th at 1 p.m.
Please meet in the Cemetery Gatehouse and then we will walk through the grounds. This guided class will be led by an arborist who will explain methods used to identify trees.
Tree Tour
October 29th 9:00 a.m. - 11:00 a.m.
This special tour couples our history tour with information about the majestic trees on the property provided by a certified arborist. We will gather outside the gatehouse.
There is no charge for the class or tour but reservations are required by emailing This email address is being protected from spambots. You need JavaScript enabled to view it.. Space is limited. When you make your email reservation, please provide your name, the date you wish to tour, and the number of participants. Please park along the pond road.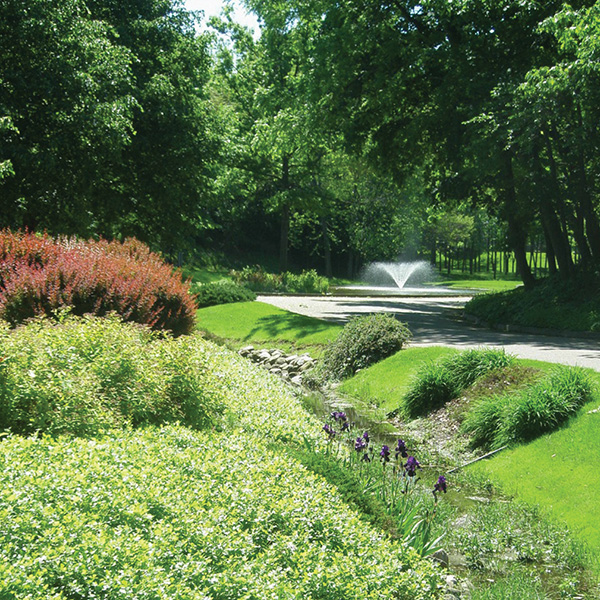 May – September 15th Summer Hours
Extended hours for grounds access beginning May 1 are through September 15, 7 a.m. – 7 p.m.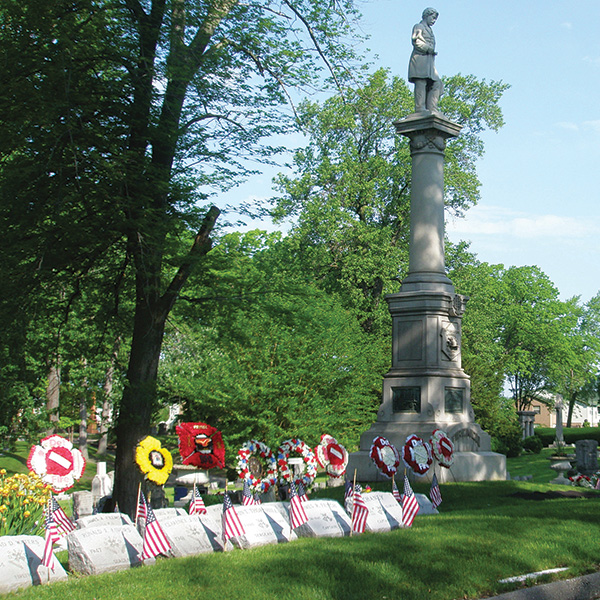 Memorial Day
May 30th – Memorial Day
Elmwood's formal event has been modified due to the Covid crisis. Families are encouraged to visit your loved one's grave while following necessary CDC recommendations. Please stop outside the office and take a carnation to adorn your loved one's grave. Please only take one carnation per grave and supplies are limited. While we are unable to have our annual Memorial Day celebration, we hope our families will enjoy this small sign of support and understanding.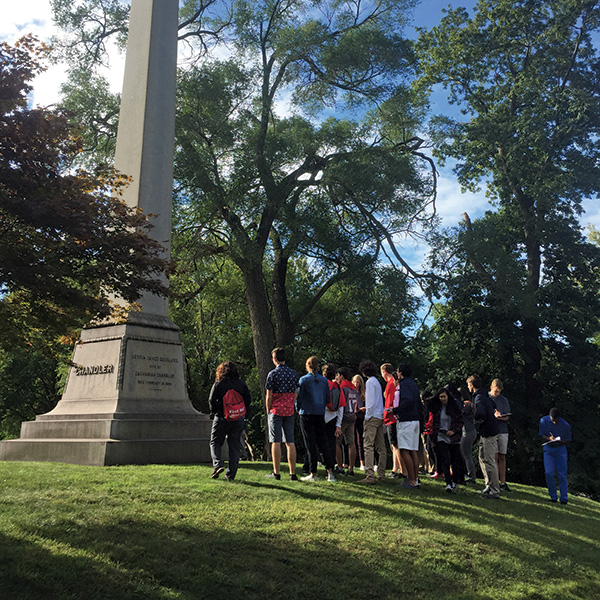 Tombstone Tales Tours
June 26th, 9 a.m., July 18 10 a.m., August 7th 9 a.m., September 25th 9 a.m., October 30th 9 a.m.
Please park along the pond-side road and meet adjacent to the gatehouse. This guided tour will highlight Detroit notables in business, politics, reform as well as a discovery of Elmwood's memorial art, symbolism, architecture and horticulture. It is a 2-hour walking tour and is free to the public.
A walk around the pond will be held on November 2 at 9 a.m. prior to the All Souls service in the chapel.
Celebrate Juneteenth with Elmwood Cemetery. Please join us for a 90-minute walking tour highlighting key people in Detroit's African American history and discussing memorial art and symbolism. June 19th 3:30 p.m.
Advance reservations are required by emailing This email address is being protected from spambots. You need JavaScript enabled to view it.. When you make your email reservation, please provide your name, the date you wish to tour, and the number of participants.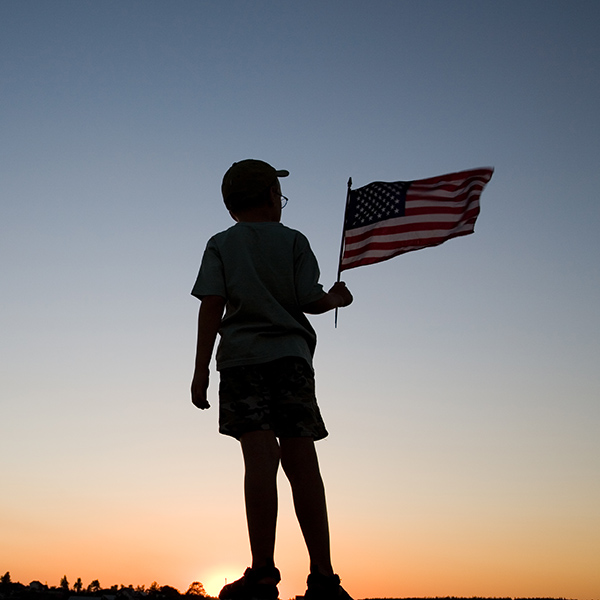 Patriots Day – September 11
Commemorate Patriots Day with Elmwood.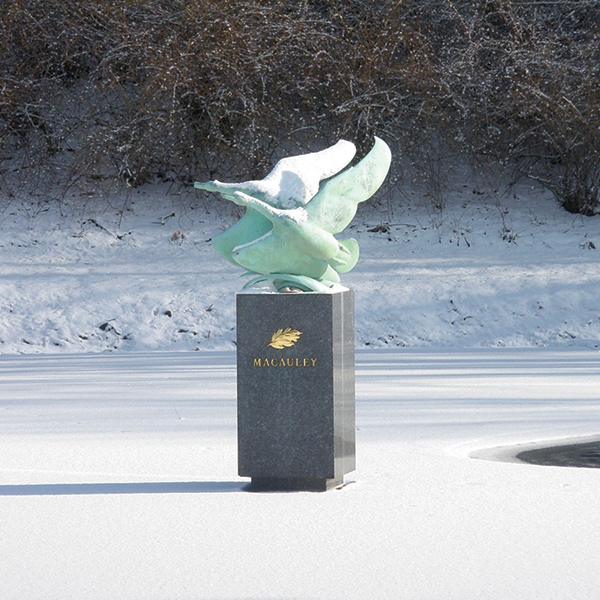 September 16th – April 30
Fall/Winter Hours begin. Grounds access from 8:30 – 4:00 daily.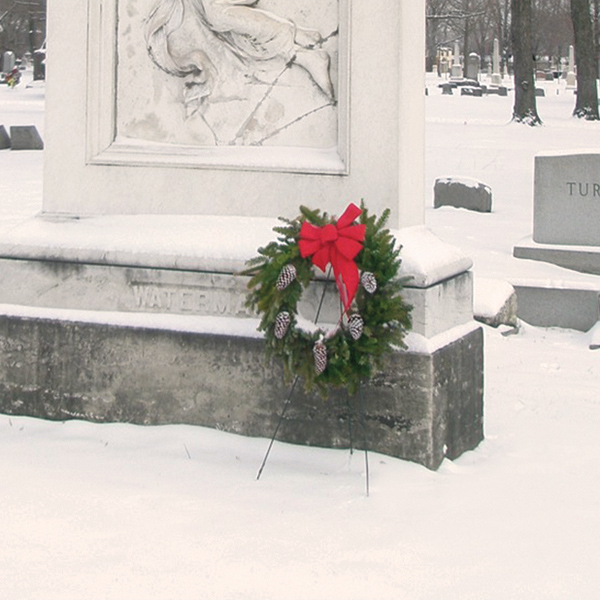 October 1 Winter Wreaths Available.
Adorn your loved one's grave with a wreath this winter. They are made from natural, freshly cut evergreen boughs decorated in seasonal colors. Wreaths are 18" in diameter with a beautiful all weather red bow and 5 pinecones, on a stand. Contact our office through This email address is being protected from spambots. You need JavaScript enabled to view it. or by calling 313/567-3453. Elmwood's grounds crew will place the wreath on your loved one's grave.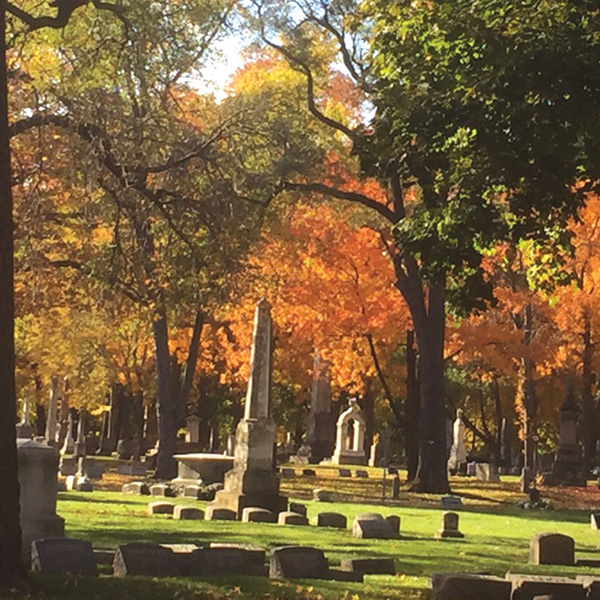 November 2, 10 am, All Souls' Service, Chapel
All are welcome to join the Elmwood community as Reverend Steven J. Kelly, Pastor of St. John's Episcopal Church Detroit, leads a service to honor those who have passed away. A walking tour is available, beginning at 9:00 a.m. at no charge for those who are interested.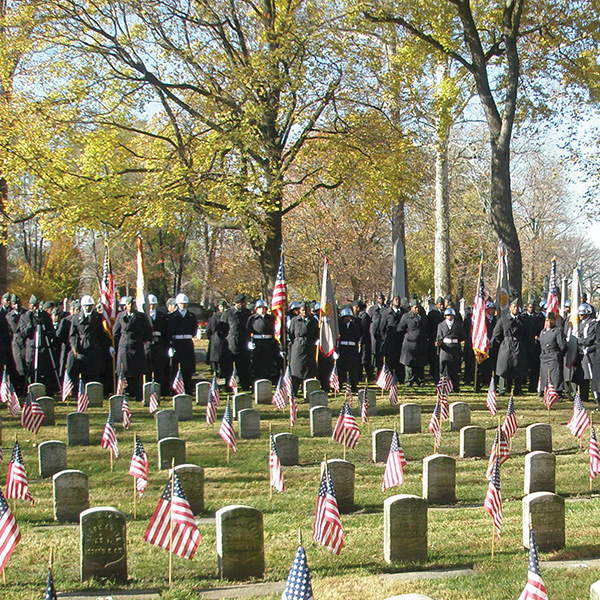 Friday, November 11, 10 am, Veterans Day Celebration, Civil War Section
The 38th annual public celebration will be held and structured based upon State of Michigan COVID 19 requirements.
Or perhaps, you would like to enjoy Elmwood on your own or with a group of friends. Each year, we are visited by those who choose to picnic alongside our restored pond, run or bicycle on our roads, watch for the migration of birds in Michigan, photograph our unique memorials, walk along our beautiful grounds appreciating our outdoor sculpture garden, the perennials, and majestic trees, or simply contemplate this quiet setting in the heart of Detroit.
Cemetery Hours
Grounds Access
May 1 – September 15 7:00 a.m. – 7:00 p.m. Daily
September 16 – April 30 8:30 a.m. – 4:00 p.m. Daily


Office Hours
Weekdays 9:00 a.m. – 4:00 p.m.
Saturdays 9:00 a.m. – noon
The office is closed on Sundays but the grounds are open.