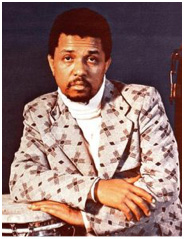 James Ingram
(1938-1994)
James Ingram, also known as the "Drum-beater" or "Jungle Jim," grew up in the streets of Detroit and on the dirt roads of Hamlet, North Carolina. Jim Ingram left school in the 10th grade to pursue a boxing career.
Ingram was a self-taught musician, a columnist/reporter for the Michigan Chronicle, a DJ and newsman for WJLB-FM where he ran a twice-daily show called "Drumbeat Commentary", as well as the "Daily Boxing Roundup Program" during the 1970s and 1980s.
Mr. Ingram was a controversial character. He was arrested during the second day of the infamous Detroit 1967 riots; although he was never charged with any crime.
He produced a Soul/Spoken-word LP in 1974, Drumbeat, which feature the self-titled track Drumbeat. This track, considered Afrocentric poetry, was spoken with music in the background. Drumbeat tells of Africa, slavery, and survival. The closing line is: "We are the beaters but WE will never be beaten." Although not a huge success at the time, Drumbeat would later be sampled by Norman Cook in the track It Began In Africa. The sample would then later reappear in the Chemical Brothers classic It Began In Afrika.
Ingram when a journalist for the Michigan Chronicle was one of several negotiators involved in the Attica Prison Riots in 1971.
James Ingram died in 1994 and is buried in Section A, Lot 106.