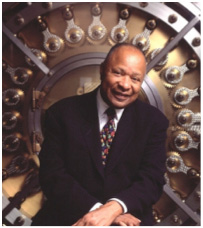 Don Davis (1938 – 2014)
Donald Davis was born Oct. 25, 1938 in Detroit. Davis' music career started in the mid-1950s when the Central High School graduate formed a jazz group called the Don Davis Trio. However, the trio was short-lived and Davis opted to become a studio musician. He played guitar for an array of Detroit based record companies, including Motown, Golden World and Ric-Tic.
In the late 1960s Davis began focusing on producing and writing, becoming a key figure with Memphis-based Stax Records. He landed a national No. 1 hit in the fall of 1968 with "Who's Making Love?" by Johnnie Taylor and several other hits by the singer, including "Jody's Got Your Girl and Gone" and "Take Care of Your Homework." His greatest success in the music business was Taylor's "Disco Lady," which was certified Platinum in early 1976 and remained No. 1 on the national R&B chart for six weeks and spent four weeks in the No. 1 spot on the Pop chart. Another 1976 No. 1 hit— Pop and R&B — was "You Don't Have to be a Star (To be in My Show)" by former 5th Dimension members Marilyn McCoo and Billy Davis Jr.
In the 1970s, Davis formed a record production and music publishing company called Groovesville. He also purchased United Sound recording studio, utilized by such artists as the Dramatics, George Clinton, the Dells, David Ruffin, Aretha Franklin and Burt Bacharach.
It came as a surprise to the music industry when Davis, a three-time grammy winner, moved into the banking field. Always business minded, he was able to take over First Independence Bank, the only African American owned bank in Michigan. The bank was founded to provide mortgage and commercial loans to the area's underserved African-American community at a time when red-lining made it difficult for blacks to buy houses. Bank business steadily drew him away from day-to-day music work. With Davis as chairman and CEO, First Independence became a major success, eventually recognized as the 12th largest African-American owned bank in the United States with over $200 million in assets.
Davis died in 2014. He is buried in the mausoleum, Gallery A, Level C, Crypt 1.