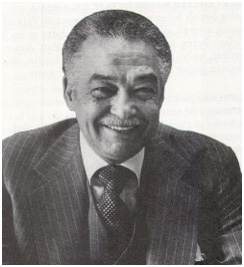 Coleman A. Young
(1918 – 1997)
Coleman A. Young was a politician, civil rights activist, Tuskegee Airman, and labor leader. He was the first African American to be elected mayor of Detroit. He also became the city's longest-serving mayor.
Young was born on May 24, 1918 in Tuscaloosa, Alabama. The family moved to Detroit in 1923 hoping to escape the violence, racism and political inequity that African Americans endured in the South. Although Young graduated near the top of his class at Detroit's Eastern High School, he was not offered enough financial assistance to go to college. Ford Motor Company hired Young as an assembly line worker and he became involved in labor union efforts. His union activities eventually cost him his position with Ford.
Young was drafted into the military with the advent of World War II. He served as a bombardier with the Tuskegee Airmen, though he did not see combat. He had nearly completed his service when he was arrested for attempting to desegregate an officer's club in Indiana.
Young returned to Detroit at the end of the war and resumed his work as a union organizer. He became the director of organization for the Wayne County branch of the Congress of Industrial Organizations. However, Walter Reuther—head of the United Auto Workers—fired Young in 1948 for radical behavior. Young then worked full-time for progressive presidential candidate Henry A. Wallace. Young also helped found the National Negro Labor Council in 1951.
Young's progressive actions led to a confrontation with the House Un-American Activities Committee in 1952, when it accused him of being a Communist subversive. During his appearance before HUAC, Young stated, "I consider the activities of this committee to be un-American." Though his stance earned him attention in some quarters, Young was subsequently blacklisted by employers and labor organizations.
For the rest of the 1950s, Young survived with the few jobs he could find, such as working in insurance sales and driving a cab. Still interested in politics, Young unsuccessfully ran to become a state representative in 1959. He was elected to the Michigan Senate in 1963. In 1968, he became the first African American on the Democratic National Committee. Young would go on to win the position of vice chairman of the DNC.
In 1973, Young won election as the first black mayor of Detroit. He was a popular choice among African-American voters. During his tenure, Young lowered Detroit's crime rates. He also led construction projects that helped revitalize the city's economy, such as the $350 million Renaissance Center business and retail complex in downtown Detroit. However, many businesses and residents still left the city while he was mayor, departures that disrupted the economy.
Young remained Detroit's mayor until health concerns made him decide not to run for re-election in 1993. With five terms in office, he was the longest-serving mayor in the city's history.
In 1994, Young published his autobiography, entitled Hard Stuff. At the age of 79, he died on November 29, 1997, in Detroit. Coleman A. Young is buried in the Hazel Dell Section.