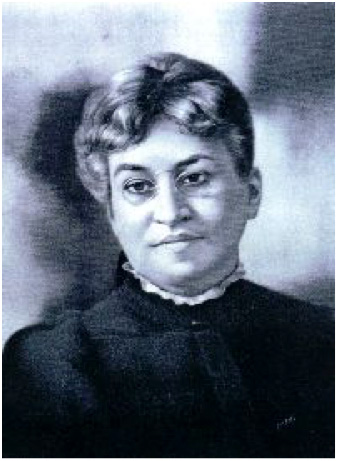 Fannie Richards
Detroit's first black school teacher, Fannie Richards was born on October 1, 1840 in Fredericksburg, Virginia of free parents. From an early age, Richards realized the necessity of an education and the fight it would take for her to gain it. As a child, she moved to Toronto, Canada with her parents where she received her education. She continued her studies in Germany where she worked with the educational team headed by Wilhelm Forebel who was developing the concept of kindergarten.
After permanently settling in Detroit, she was allowed to teach in Detroit because of her brilliant scholastic record. In 1863, she opened a private school for black children and in 1868 was appointed Instructor of Colored School No. 2.
In 1870, under the leadership of John Bagley, Richards and several of her relatives protested against Detroit's segregated school system and in 1871, the Michigan Supreme Court ordered the Detroit Board of Education to abolish separate schools for black and white students. That same year, Richards was transferred to the newly-integrated Everett Elementary School where she taught for 44 years. It was there that she established the first kindergarten class in Michigan.
Richards' achievements were not limited to education. She helped to found, finance and became president of the Phyllis Wheatly Home for Aged Colored Ladies, an institution organized in Detroit in 1898 to meet the needs of poor and elderly. She was also one of the founders of the Michigan State Association of Colored Women. Richards taught Sunday School at the historic Second Baptist Church for over 50 years.
In 1915, after more than 50 years of service, she retired from teaching. She died seven years later on February 13, 1922 at the age of 81. She is buried next to her brother, John D. Richards, in Section N, Lot 150.
Richards was inducted into the Michigan Women's Hall of Fame in 1990 for her contributions to education. She was the chief catalyst for the desegregation of Detroit's schools. A Michigan Historical Marker is placed at her homesite in Detroit.