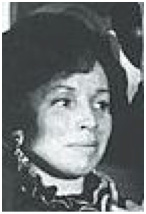 Joyce Finley Garrett
(1931–1997)
Joyce Finley Garrett blazed a trail in the United States State Department when, in 1962, she became the first female African American foreign service officer. Her service as Vice Consul in Caracas, Venezuela, was brief in comparison to her later decades-long career in various levels of Michigan state government, but it signaled a key attribute of Garrett's career success: her drive. Garrett summed up her attitude for Marian Dozier of the Detroit Free Press in 1991, saying "I don't like people telling me what I can't do." Her frustration at being told that a woman—let alone a woman of color—would not be hired into the U.S. Foreign Service, sparked a fire in Garrett. For the entirety of her career, Garrett refused to "kowtow to someone else's standards."
Garrett was born on August 16, 1931, in Detroit, Michigan. Her parents, Thomas A. Finley and Mary Fleming, divorced while she was very young and she moved to Cleveland Ohio to live with her father's sister. Garrett achieved great academic success, taking part in a gifted child program in the Cleveland public school system.
After high school, Garrett gained entrance to Smith College, and stood out as one of only a handful of African American students. She nurtured her interest in foreign affairs and developed a fluency in both French and Spanish. Garrett returned to Detroit in the mid-1950s and enrolled in graduate study at Wayne State University.
While working for Wayne County government, Garrett trained for and passed the foreign service exam. After working in Washington, D.C., Garrett moved with her daughter to Caracas, Venezuela, in 1962, where Garrett served as vice consul. After a year, Garrett left the foreign service to return to Detroit.
Garrett's legacy as a strong, independent woman only grew in Detroit, where she completed her master's degree in political science in 1966 from Wayne State University. Garrett moved from positions in Wayne County to Oakland Community College before becoming assistant director of the Michigan Civil Rights Commission in 1967.
As Garrett was taking on more and more influential positions in Michigan, she became acquainted with state senator Coleman Young. The two became companions in 1968. When Young was elected mayor, Garrett became the unofficial first lady of Detroit, joining Young at celebrations and acting as hostess at functions at the mayoral mansion.
In 1974, Garrett was appointed executive director of the Detroit Bicentennial Commission and coordinated the events of Detroit's 200th anniversary celebration of the American Revolution.
She was an active member of such organizations as the American Association of University Women, the League of Women Voters, the NAACP, and the National Council of Negro Women. She served on the boards the Bank of the Commonwealth, Founder's Society of the Detroit Institute of Arts, and the Museum of African American History, and the Vice Chair of the Metropolitan Detroit Convention and Visitors Bureau. Garrett also was the first black elected as a member of the Smith College Alumnae Governing Board.
Selected awards: Women of Wayne Headliner, 1972; Spirit of Detroit Award, 1974.
Garrett died in 1977 and is buried in Section B, Lot 37.