Tours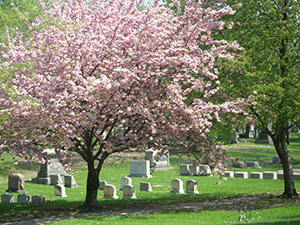 Elmwood Cemetery is steeped in history, art and natural beauty.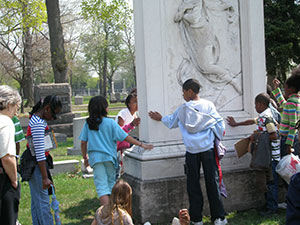 Established in 1846, it is the oldest continuously operating, non-denominational cemetery in Michigan. It contains the graves of many prominent men and women including civil war generals, 7 governors, 11 U.S. senators, 30 Detroit mayors, and countless business and community leaders.
A stone's throw away from the hustle and bustle of downtown Detroit, you will find 86 acres of Detroit's natural topography graceful hills and a valley surrounding a calmly flowing stream, complete with large stands of trees and roads that follow the natural slope of the land, blending with the surrounding environment and architecture, creating a haven of peace for the living to enjoy.
Please join the hundreds of people each year who tour Elmwood's grounds. Recent participants include seniors, school and community groups, garden clubs, history buffs, religious organizations, photographers, birders, and special interest groups.
Tombstone Tales Guided Walking Tour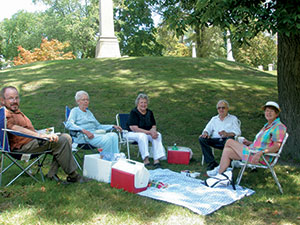 Elmwood has four "Tombstone Tales" tours that we offer to the public FREE of charge. We share the many stories of those laid to rest at Elmwood, including Michigan governors and senators, Detroit mayors, Civil War generals, African American Heritage Leaders, and Detroit's Who's Who. We also highlight memorial art and symbolism, architecture, and our unique grounds. Our tours are held in all weather and are walking tours lasting approximately 2 hours.
Please join us for this year's Tombstone Tales Tours:
June 22 at 8:30 a.m.
July 5 at 8:30 a.m.
August 2 at 8:30 a.m.
September 14 at 8:30 a.m.
October 27 at 8:30 a.m.
November 2 at 9 a.m. -- a short walking tour 45 minutes.
Tree Tours:
Elmwood is delighted to be Detroit's first certified arboretum. This special tour will couple our history tour with information about the majestic trees on the property.
May 18 at 8:30 a.m.
Oct 27 at noon THIS EVENT IS SOLD OUT.
Advance reservations are recommended by emailing This email address is being protected from spambots. You need JavaScript enabled to view it.. When you make your email reservation, please provide your name, the date you wish to tour, and the number of participants.
Self-Guided Tours
The Historic Elmwood Foundation has developed self-guided tour maps highlighting key figures who are buried at Elmwood:
The self-guided maps are available, free of charge, in the cemetery gatehouse during office hours.
Special Interest Tours
Special Interest Tours are available for groups and are scheduled throughout the year via our partners and through special interest groups. For more information, please email This email address is being protected from spambots. You need JavaScript enabled to view it. or call Foundation Executive Director, Joan Capuano, on 313/801-1971.
Tour Referrals
The Foundation is underwriting tour costs for those interested in experiencing Elmwood Cemetery. Amy Elliott Bragg, local historian and author, is available to lead guided walking tours through Elmwood for your special interest group. Please contact via email, This email address is being protected from spambots. You need JavaScript enabled to view it., or call Joan on (313) 801-1971.
Many tour organizations bring their groups through Elmwood. Listed below are some unique touring opportunities:
www.showmedetroittours.com
www.preservationDetroit.org
www.feetonthestreettours.com
www.wheelhousedetroit.com
History Partnerships
Elmwood is also proud to partner with both the Detroit Historical Society and the Charles Wright Museum of African American Heritage to help preserve and promote Detroit's great history. Unique tour opportunities are available through both organizations for individuals and groups. Museum entrance and tour pricing can be found through their website links.
http://www.detroithistorical.org
Detroit Historical Society tour of Elmwood Cemetery and our African American Heritage
is on August 26. Please contact DHS for additional information.
http://preservationdetroit.org